With 2018 around the corner, and inboxes full to the brim like overflowing cups of hot cocoa, it's time to both reflect and project with our email marketing tactics. Reflecting back on how email marketing has changed over the years up to 2017, and project how it will continue to develop into 2018 and guess at the future of email marketing.
When I asked my colleagues, online experts, and conducted my own research to determine key email marketing trends for 2018, I noticed something interesting. Most of the insights I received fell one of two ways. In 2018, email would either become:
a) More human and genuine, or
b) Less human, with more AI and machine learning
I must admit, my mind briefly envisioned a dark, Terminator-style future where humans and machines fight to the death over open rates and inbox placement. But more importantly, I wondered how email marketing may segment and divide in 2018 between the human and the machine.
Let's review some of the top email marketing insights from experts projected for 2018 (and hope that an email-frenzied T100 doesn't pop out of the woodwork).
Humanity in email marketing trends
With online communication channels becoming ever-more oversaturated with marketing content, many email marketing experts advise that 2018 will be the year to return back to genuinity, sincerity, and real human connections in email communications.
1. Next-level email personalization
One significant email marketing trend for 2018 is getting more personal. Using "first_name" personalization isn't enough anymore, and personal really has to mean personal if you want to get results with your email marketing efforts.
If you want to get your emails opened and drive results through this channel, you have to deliver content that actually matters to the specific person that it's being sent to.
What content did they convert on? If it was a checklist for creating the best digital ads, maybe they need help with their digital advertising, so provide them with more resources and tools to learn that aspect of marketing.
As Vicky Ge, Product Manager at Amazon, states in her paper on Experimenting with Personalization, "the first step to personalization is to think like a person."
? Takeaway: Pay attention to how your users interact and engage with your emails, and your marketing as a whole. Try sending them specific content based on how they converted, or even sending 1:1 custom-crafted emails with your most engaged users.
The more you pay attention to their activity on your website, with your emails, and on social, the more you can understand them as a person and tweak your messaging and content to resonate with them.
2. Conversations over conversions
Is open rate really the best metric to track for your emails? Better human interactions are created when you refocus your efforts on creating conversations and achieving a higher reply rate with your email marketing.
That means adopting a more conversational and casual tone with your emails, employing plain text over HTML with your design, and asking questions about your prospects. Make email a more interactive and personal experience with your audience!
For Vendasta's email marketing efforts, we found that adopting plain text emails with a casual tone and email persona (Dew at Vendasta) skyrocketed our reply and engagement rate.
? Takeaway: Start employing more conversational tones in your email marketing. You can do this by:
Asking questions
Being vulnerable and telling personal stories
Using humor and jokes
Use inclusive language and focus on them by swapping out "we" and "ours" with "you" and "yours"
Add a personal P.S to the end
Embrace the power of your personal voice
Play around with what your persona (or you!) sounds like in an email, and focus on being human and relatable over sales and cold.
Related Reading: 7 Ways to Write Sales Emails that Actually Get Replies! [Templates]
3. Use empathy, not trickery
What kind of inbox do you wake up to every day? Do you really stop to click on each subject line and carefully read the body, or do you skim to grab the most important pieces of information and scrap or "mark as read" the rest?
However you feel about waking up to a full, commercial inbox is probably how your audience feels too, so keep that in mind as you craft your messages in the new year.
It's also important to deploy empathy in your marketing—you know your customer's inbox is flooded because yours is flooded too. You have to get into the mind of your customer and maximize those .2 seconds they will give you when scrolling through their inbox deciding which emails are important enough to open.
Every character in your subject line matters and preheaders can make or break you. If more companies deployed empathy in their marketing instead of trying to use clickbait to get me to open their emails—I have no doubt they would have a higher open rate. And maybe even increase their conversions.
In the past, so many "email marketing tips" pointed towards tricking your audience into opening your emails:
"Oops!" in the subject line
Using tiny text they have to click to read
Using "RE:" or "John from [X] told me to contact you"
Employing empathy in email marketing means scrapping your old trickery and getting emails opened by supplying people with what they need. Honesty is the best policy.
Email marketing is still one of the most highly used digital marketing tools, and everyone knows it. You aren't fooling your prospects with subject lines that start with "RE:" or footer text that is small and ineligible. Let's be genuine. If you have to use tactics like that, maybe you shouldn't be emailing that person in the first place. We all get so many emails the only true way to stand out is by being relevant. Your consumers aren't dummies, so let's put ourselves in their shoes and only send what we'd want to receive. Be helpful. Be relevant. Be honest.
? Takeaway: Cut the crap and trickery with your subject lines designed to manipulate people into clicking, and start adopting subject line and email copy tactics that work because it's what your audience wants.
Before you write an email, picture yourself on the other side of the inbox and determine if it's what you'd want to wake up to the next morning. If the answer is no, you probably shouldn't be sending it in the first place.
4. Emails with purpose, not agendas
To tie personality and empathy together, 2018 will really be the year of email marketing with purpose, not sales agendas. Only put something into your audience's inbox if there's a real reason—more than just wanting to update them about the newest product of yours they can buy.
As marketing continues to become more in-your-face in the digital world, strategies will have to be more focused on providing value than pushing product. We've seen this begin with the new inbound marketing craze, and it will only continue to progress in the years to come.
Above all else, make sure you are sending emails that have a distinct PURPOSE.
It cannot be an email for the sake of sending an email, it is of paramount importance
that there is a true reason and call-to-action inside of the email that warranted the communication, otherwise, you will never get your emails opened again.
? Takeaway: Try setting a specific purpose for each email you write in 2018—not open rates or sales goals. Try optimizing your emails for purposes like "help prospect create better Facebook ads," or "teach partner about new spam laws."
By introducing purpose-setting into your email process, you'll likely trim out a lot of pointless emails that are just annoying your audience and hurting your brand.
5. Cleaner lists, better compliance
To combat the oversaturation of consumer inboxes with sales and promotional material, 2018 will bring an increased focused on only sending emails to people who want it, with more rules to enforce that.
Marketers are already preparing for this and know the role that regular list cleaning has to play in optimizing their ongoing email strategies. In Econsultancy's Email Marketing Industry Census 2017, regular list cleansing was listed as the second-most important item in email marketing campaigns (64%).
GDPR or General Data Protection Regulation, which doesn't sound exciting, but is extremely important. This is new legislation that will come into effect in May 2018 and will affect the way companies process the personal data of EU citizens. Fines for misuse will become tougher, however, this would help us to make our emailing lists cleaner and work more effectively.
What does it mean for marketers?
Pre-ticked opt-in boxes won't be allowed anymore and rules for storing data will become stricter.
Sign up forms will have to be more granular and will need to specify which specific companies get to use the data and how. So, no more "our friends and partners" would be allowed in the contact of subscribers.
Whilst it all may look not great for digital marketers, in fact–that is a great time to clean up our email lists, ensure that all opt-in forms are built according to new rules and shift focus towards quality rather than quantity.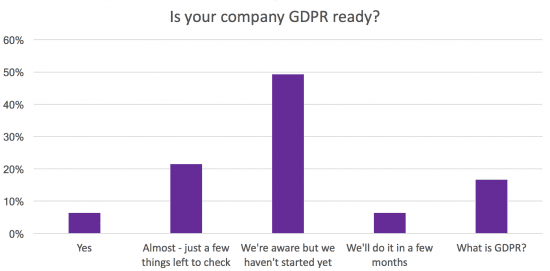 Related Reading: Spam Laws: How to Comply and Keep Your Email Marketing Afloat
In the next few months, you'll need to focus on "trimming the fat" off your existing email marketing list and ensuring your information collecting moving forward promotes leaner, cleaner lists.
? Takeaway: Introduce regular list-cleaning activities in your email marketing process, "trim the fat" off your current lists, and get your emails ready for new anti-spam laws.
For compliance: make sure the processing of your user data is done lawfully and fairly, that data is collected for solely legitimate purposes, and that what you collect is adequate and only retained as long as necessary. Read up on the GDPR legislation for more details.
For list-cleaning: Start by manually sifting through and removing email addresses, narrowing down subscribers who haven't opened or engaged in over six months, and even consider reconfirming your list more frequently with new subscription confirmations.
Trimming the fat involves manually removing group email addresses (support@, sales@, admin@, webmaster@) and dead domains (@compuserve.com) from your email lists. You'll get little-to-no engagement from these recipients, and your emails could get marked as spam, consequently hurting their deliverability.
Data personalization and AI in email marketing trends
On the other side of the email marketing fence are the machines—the experts that are putting their email bucks into the automation and big data bucket. With more data being collected by more systems about more people, the automation and "AI" component of email marketing will continue to get smarter and more precise.
Is the future of email robotic? What email marketing trends for 2018 will rely on the machines?
1. Trust software to make the decisions
With the introduction of machine learning into marketing automation, in 2018 you'll be able to trust your software to make the best-calculated decisions about what emails to send and when.
In 2018: Trust the machine (!) with marketing automation thanks to Artificial Intelligence that will be responsible for the execution of your Email Marketing campaigns.
Surprising, but 61% of SMEs do not use any form of marketing automation. Artificial Intelligence (AI) is becoming more intelligent and intuitive, so, yes, 2018 is the year to trust in technology and rely on the machine intelligence.
Through Deep Learning using Google's platform TensorFlow you will be able to create models that will predict from what time of day, is the best to send your Email Marketing, to even what the content should you use (based in the most engaging topics in the web at the moment).
We started using AI 5 months ago for our Email Marketing campaigns and the conversions increased by 21.3% (yes, AMAZING!).
? Takeaway: Test email marketing software that has begun rolling out AI features and let the machines do the learning and sending for a set period of time. Track the results, and use this information to make better, data-based decisions about sending emails to your audience.
2. AI predictive emails
With more integrated data across all channels comes better opportunities for AIs to send the perfect email at the perfect time to your prospects and clients. The use of smarter marketing automation will only continue to grow throughout 2018 and beyond.
Email Marketing has gone from batch and blast to automated and now in 2018
it will go into predictive email marketing using artificial intelligence.
AI that is starting to take over in email marketing with the following just
starting to roll out:
A/B & Multivariate testing

This includes removing the guesswork out of subject line and call to action optimization

Send time optimization based on AI and when a user might open their email
Predictive personalization
Images and subject lines could change based on the Industry of the prospect
AI can pull the prospects Linkedin account to reference posts that they liked or commented on and use it within the personalization of the email
Emails should become smarter. As an agency representative, I manage multiple email accounts of different sizes and audiences, and I can confidently predict that while personalization and segmentation are still extremely important, the focus is shifting towards automation and automatically triggered emails.
Automated sequences, triggered by clicks on specific links or based on the time after the purchase are the way to go. Some strategies we are developing are based on complicated flowcharts and diagrams: 'if the person clicked this - then send them this email, if they have clicked the other option – send them a series of these emails' and so on. It may sound complicated, but in fact, it just takes time to set up.
By combining purchase data and behavioral data from Google Analytics with email open data, engagement data and some demographics we can predict quite precisely when people are most likely to buy. What are they going to buy next if their first purchase was Product X and so on. This data is analyzed, put into the patterns, and email strategies are built around that using milestones and visitor actions as trigger points.
So it is the time to send fewer emails, but smarter ones.
3. Integrated omnichannel email strategy
Some predict that 2018 will bring more interconnectivity between your marketing channels and their data than ever before, opening up new doors for integrated omnichannel and cross-channel marketing strategies.
Email marketing will be changing to become even more sophisticated. Recently I am seeing this tools making efforts to become smarter and go beyond email automation.
For example, some tools like Active Campaign try to be part of the overall website strategy by letting site owners adapt their on-site messages to the user's profile. Email marketing tools are also improving their reporting systems and now you can already learn a lot from your visitors, but I expect this to grow in the upcoming months.
This is why I think that in 2018 (and beyond) email marketing will get a more active role and will become even more present in the overall digital strategy, by allowing digital marketers to further target and segment their visitors and customers. They will also become a reliable source of information to learn about customers and users. Especially if these tools become affordable enough for small & medium businesses.
In 2018, there will be more cross-channel campaigns between email marketing and social media. More marketers will experiment with uploading segmented lists for targeting in paid search and paid social at various stages of the funnel (both for retargeting and reconversions), as well as targeting lookalikes.
? Takeaway: Experiment with integrating data from your other marketing channels into your email marketing channel to create more segmented lists to send better emails at the right times. Integrate your audience data from other channels like Facebook and LinkedIn to learn more about who interacts with your content so you can further narrow your email lists.
Export and upload your email list into Facebook and other paid advertising platforms to try reaching your subscribers in a different way to see how they engage with your content and find new users by creating lookalike audiences of your email lists.
4. Divide and conquer with email segmentation
With better data on your clients and prospects come more opportunities for you to segment your lists and build out smarter campaigns. In pure Big Brother fashion, email segmentation will be huge in 2018 and the data agrees.
In the Econsultancy's Email Marketing Industry Census 2017, basic email segmentation was listed as the highest priority for campaigns in 2017 (80%) with advanced segmentation ranked as number ten on the list (33%).
Takeaway: Use your list data to segment your email lists into narrow, specific audiences and deliver even more personalized email content.
Taking advantage of the data in your email marketing system, you can segment lists by:
Demographics
Purchase history
Click-through rate and past email performance
Website activity
Job title
And more
Start breaking out your email lists and sending more narrow, targeted emails to see what works for who.
Building an email marketing cyborg strategy in 2018
With all this talk of human versus AI, maybe we're looking at this from the wrong perspective entirely. Is there a world where our email marketing can be ruled by both humans and machines in harmony?
Perhaps the best way to build your email strategies is by taking on a "cyborg" email strategy—use AI and machines to learn the best time to send emails, but use empathy to guide your strategy and the actual email copy.
The bigger and better data just opens the door to more personalized content at the right times to the right people. Use the data and AI as tools to facilitate a more human approach—and try not to think of that as an oxymoron.
To recap on our above takeaways, here are steps to a building a cyborg email marketing strategy:
Explore and test email marketing platforms that are rolling out AI technology
Use your list data to segment your email lists into narrow, specific audiences and deliver even more personalized email content
Carefully craft each campaign with a purpose and specific consideration of how it matters (or doesn't) to your audience
Adopt a more conversational tone to engage with your audience and learn more about the person that owns the inbox—you can wrap that back up into step 3. For better list segmentation and email personalization!
Introduce regular list-cleaning activities into your day-to-day email marketing optimization to ensure that only people who want your emails are getting your emails
Focus on creating connections and helping your audience, not pushing them to buy buy buy
Experiment with the technology, conversations, and content!
What do you predict for the future of email marketing? What strategies are you looking to implement in your 2018 email marketing?  Will you attempt a cyborg strategy, or pick the side of human or machine? Let us know in the comments below!